Thermostats & Controls
Anacapa Heating & Air sells and installs many of the industry's leading thermostats, including Carrier, Honeywell, Venstar, and Nest. Because most thermostats can work with most brands of air conditioners and furnaces, you can choose a thermostat based primarily on what's important to you, whether that's affordability, user-friendliness, energy efficiency, programmability, remote control capabilities, and/or its ability to learn and adjust to your habits. Once you know what you are looking for, one of our Comfort Consultants can work with you to review the options that best match your budget and goals.
If you are interested in learning more about our thermostats, call Anacapa Heating & Air today. We sell and install thermostats for residential and commercial clients throughout Ventura County, Santa Barbara County, and surrounding cities. We are a licensed HVAC contractor and have served the heating and air conditioning needs of thousands of satisfied customers since 1998.
Carrier Thermostats & Controls - Infinity, Performance & Comfort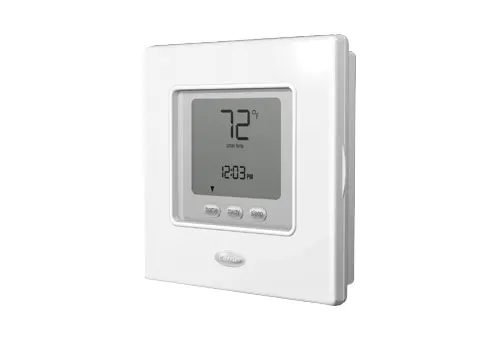 To complement their air conditioners and furnaces, Carrier thermostats and controls are available in three lines: Comfort, Performance, and Infinity. The Infinity Series consists of their top-of-the-line technology and equipment, for their highest degree of comfort management. The Comfort Series is the most economical. And, the Performance Series provides a balance of the two. With this wide selection, Carrier is able to offer a solution for most needs.
7-day programmable, 5/2-day programmable, non-programmable
Wi-Fi® remote access capable and energy reporting options
Voice control capability and energy-saving intelligence technology also available
Select models can control up to 8 zones and feature energy-tracking with smart-setback features
Easy to read and use displays
5-year or 10-year parts limited warranty
Honeywell Thermostats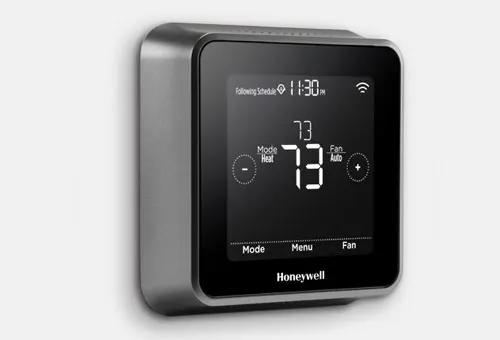 Honeywell thermostats are known for their innovative technologies and quality craftsmanship. Their line of thermostats includes both non-programmable and programmable thermostats, with a variety of advanced features. Select models may be Wifi capable, have full-color displays or touchscreens, come with simple push-button controls, or offer smart alerts and energy-saving settings.
Features:
Options: Non-programmable, 1-week programmable, or 5/2, 5/1/1, or 7-day programmable
Intuitive controls and programming
User-friendly interfaces
Easy-to-read displays
1-year to 5-year limited parts warranty
Nest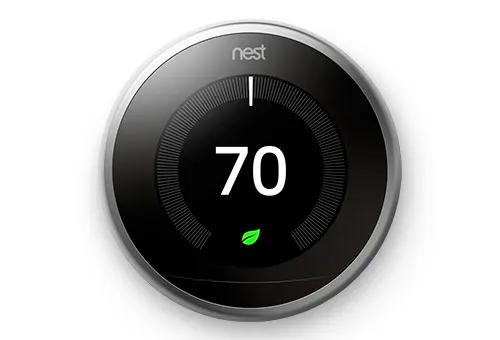 Nest is widely sought out for its impressive learning thermostats. After about a week of use, these thermostats can start automatically adapting to your life and help you reduce your heating and cooling related energy costs. Because of its potential to reduce your energy consumption, Nest thermostats often qualify for rebates from Southern California Edison.
Programs itself - learns your habits and creates a personalized, energy-efficient schedule
Helps significantly reduce energy costs
Connects with Google Home and Alexa
Can be controlled remotely with most smartphones
Large, easy to read screen and simple controls
1-year, 2-year, or 3-year limited parts warranty
Venstar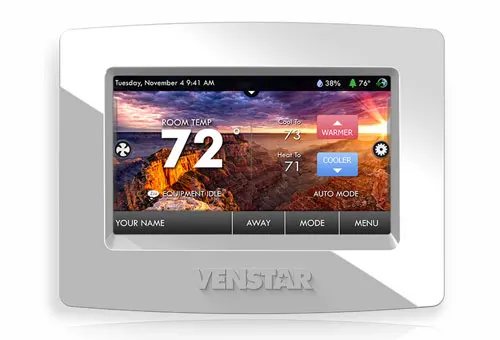 Venstar is one of the largest thermostat suppliers in the world. Its most popular thermostat is the Venstar T5800 ColorTouch Thermostat. It is programmable, has a variety of attractive backgrounds, records daily energy use, and can be controlled remotely by your smartphone.
Features:
Built-In Wifi, 365-day programmable
Can be controlled on most smartphones
Customizable screensaver and wallpaper
3 residential and 3 commercial models to choose from
Reviews
Highly Recommend Anacapa Heating and Air! Staff is highly knowledgeable and professional. Love that is Local and Family owned!